Ras Bufontas Free Zone, which is overseen and regulated by Qatar Free Zones Authority (QFZA), has been awarded the GSAS Design & Build (D&B) 3 Stars Certificate for "Districts & Infrastructure Scheme". Within Ras Bufontas Free Zone, the iconic Business Innovation Park building has achieved the GSAS 3 Stars Certificate for "Design & Build Offices Scheme". The accreditations were awarded by the Gulf Organisation for Research & Development (GORD). To commemorate the achievement, a ceremony was held at Business Innovation Park Building in the presence of senior leadership from Qatar Free Zones Authority (QFZA) and GORD.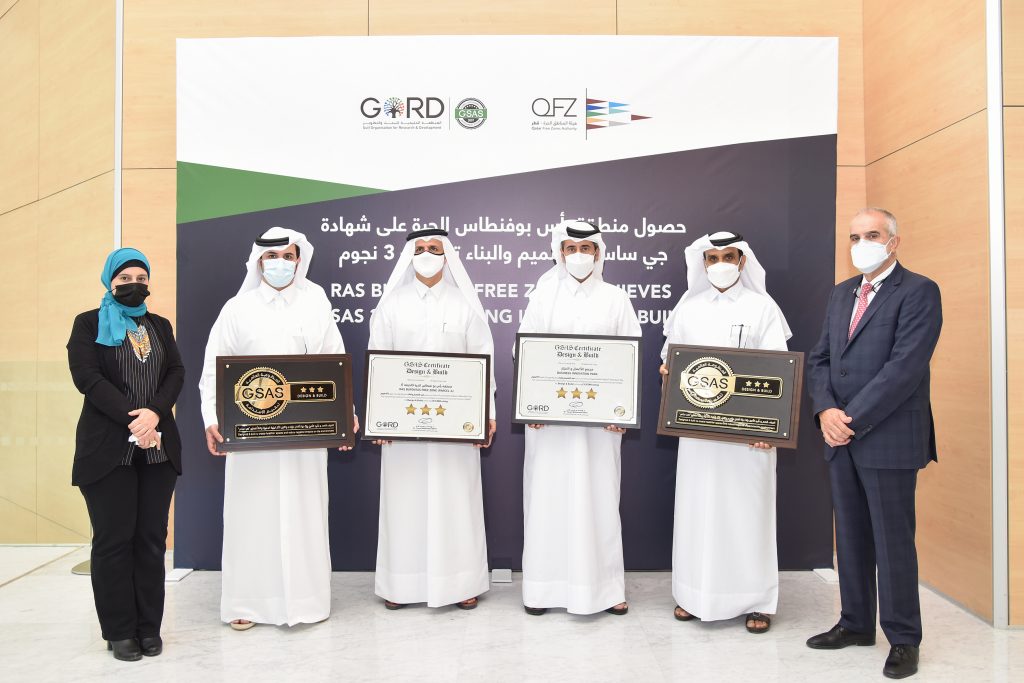 Ras Bufontas, which is directly adjacent to Hamad International Airport, is one of two free zones overseen by QFZA, along with Umm Alhoul. Together, the free zones deliver long-term solutions for local and international businesses with operations in Qatar. To promote economic diversification in investments adding value to Qatar, the free zones offer companies with several distinctive features that lead to business success and growth. These incentives include easy access to Qatar's award-winning port and airport, as well as financial benefits, to ensure seamless business operations. QFZA from its inception realized the significance of providing a globally competitive and environmentally sustainable business environment, through the implementation of GSAS certification for industrial zones with a minimum target of 3 Stars.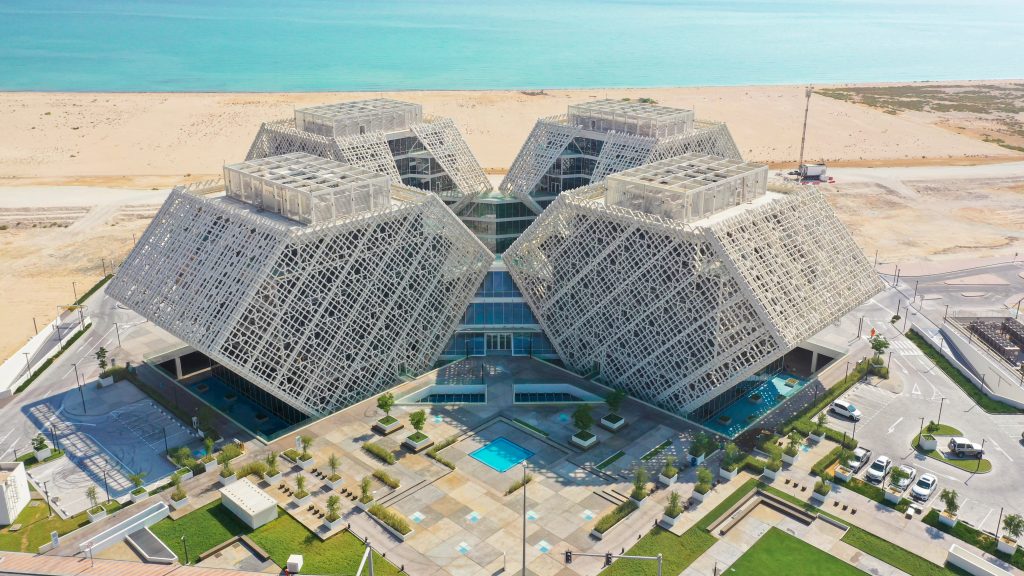 Speaking about the achievement, Eng. Ali Al-Khalifa – the Chief Executive Officer for Zones Development at QFZA, said, "We thank the Gulf Organisation for Research and Development (GORD) for granting Parcel A in Ras Bufontas Free Zone the GSAS Design & Build 3 Stars for "Districts & Infrastructure Scheme". This accreditation demonstrates the Qatar Free Zones Authority's commitment to the highest standards of sustainability in construction and building development, and providing top-of-the-line, long-term infrastructure for companies based in Qatar Free Zones. This award is also testament to our enduring contributions to achieving Qatar National Vision 2030 goals."
Dr. Yousef Alhorr, Founding Chairman of GORD, said, "What we share with Qatar Free Zones Authority (QFZA) is a common pursuit towards sustainable future. While providing conducive business services for investors to facilitate Qatar's economic development, QFZA is also ensuring environmental sustainability through green building certifications. Implementing green building standards on a district level is an extremely complex exercise, but QFZA's efforts proved that the organization was up for this challenge. By embracing GSAS standards, facilities inside these free zones are significantly reducing their carbon emissions."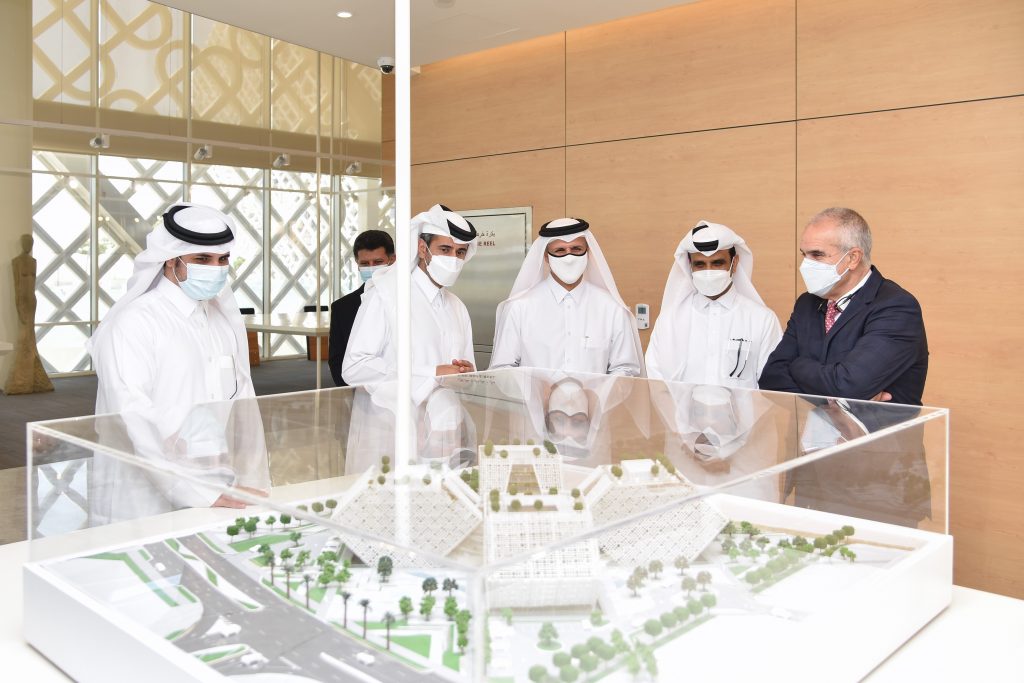 Adjacent to Hamad International Airport (HIA), Ras Bufontas Free Zone, covers a total area of 4 square kilometers, and supplies several property solutions, such as fully serviced units. Key sectors to be serviced by Ras Bufontas Free Zone include logistics, consumer products, light manufacturing services, pharmaceuticals and technology and applications.
With sustainability incorporated right from the planning and design stage, the master plan of Ras Bufontas Free Zone has been developed in line with the Global Sustainability Assessment System (GSAS) as the guiding framework. GSAS offers a range of schemes that cover different types of projects from the macro level, i.e. districts to the micro level i.e. different building types. Over the years, more than 1.8 billion square feet of district master planning design has been assessed by GSAS. Specifically, GSAS Districts scheme is used for assessing the planning and design of urban developments and/or their infrastructure. New developments like Ras Bufontas are evaluated according to the design intent of the master plan and audited frequently for the construction conformance by GSAS Trust certifiers and auditors.
Against the backdrop of Qatar's arid climatic conditions, water conservation is understandably a crucial sustainability marker for any project striving to reduce its negative environmental impact. To minimize the use of fresh water, Ras Bufontas Free Zone has benefited from water sensitive landscaping, water metering and efficient fixtures across all facilities. For landscaping and irrigation purposes, the project will benefit from Treated Sewage Effluent (TSE) along with drip irrigation system which uses 30% to 70% less water compared to conventional watering methods, such as sprays and sprinklers.
Ras Bufontas Free Zone incorporates a wide range of sustainability measures to preserve the environment and protect its biodiversity. These include a 200-meter-wide coastal protection and rehabilitation buffer, selectivity in materials used to reduce the heat island effect, and a priority on local sourcing to reduce the Zone's carbon footprint.
To make substantial impact on improving sustainability, considerations to operational phase of the buildings should be considered in the design phase. With special attention to ensure that the facilities stay sustainable in the long run, a range of design and build features implemented in Ras Bufontas Free Zone are aimed at ensuring sustainable operations in the future. One such example is the waste management system which will minimize, separate at source and segregate the collection of solid waste through color coded bins across all plots. Waste collected will then be processed for off-site treatment to optimize overall diversion from landfills. Of the total solid waste generated by the Free Zone per annum, it is estimated that more than 50% will be recycled while another 28.5 % will be compostable. Together, this will mean that the total amount of waste generated by Ras Bufontas Free Zone will be less than 30%. Segregation at source will be implemented through policy measures requiring all building owners to ensure this before waste collection by the Ministry of Municipality and Environment.
By providing connected pedestrian and cycle networks, Ras Bufontas Free Zone will encourage sustainable commute which will be further supported with a public transport network. All key facilities within the Free Zone are designed at a walkable distance from bus stations. With a frequent shuttle service from these stations, visitors and workers can easily access nearby metro station. To increase the usability of pedestrian facilities, outdoor thermal comfort has been ensured with ample shading and specific street orientations to allow for improved air flow. Through the abovementioned approaches, Ras Bufontas Free Zone will approximately reduce 50% of vehicle emissions compared to conventional developments of a similar scale. With the sustainability certification for Ras Bufontas Free Zone now complete for Parcel A, works are underway on Parcel B with similar green credentials to maintain 3 Stars GSAS-D&B for Districts & Infrastructure scheme for the entire project.