Qatar Free Zones Authority (QFZ) and Google Cloud inaugurated the new cloud region from Qatar's free zones, the first in the GCC and North Africa. The new Doha region brings with it world class cloud services to individuals and organizations across Qatar and the region, and creates opportunities for businesses to enhance their capabilities, foster innovation, and advance the technology sector in our country. We are also proud of our partnership with the Ministry of Communications & Information Technology, a partnership which supports us to offer cutting-edge technologies and digital infrastructure locally and in the region.
As it stands, a number of Google Cloud employees have joined the Qatar office in the heart of Doha. The Center of Excellence in Ras Bufontas Free Zone is active, offering numerous events, trainings and workshops, as well as certification programs to the local tech community enabling them to become digital leaders. To date, more than 3400 people have benefited from the 40+ programs that included workshops at the Business Innovation Park in Ras Bufontas.
Our partnership with Google Cloud illustrates exactly what we strive to build at QFZ – partnerships that strengthen Qatar's position as a technology hub and deliver great value to our partners.
Launch event of the new Doha cloud region
The launch event brought together over 2,700 experts, executives, developers, IT professionals and government officials to inaugurate the new Doha cloud region, who all came together at the Qatar National Convention Centre to take part in this new milestone in Qatar's journey of digital transformation.
Google Cloud's Journey with QFZ
Emerging and disruptive technologies have always been a key focus in QFZ's strategy since our inception, due to the role they play in advancing the technology sector in the State, and accelerating digital transformation and economic diversification in Qatar.
Our journey with Google Cloud started towards the end of 2019, and with the new cloud region and other avenues of partnership like the Center of Excellence in Ras Bufontas Free Zone, and the data centers in both our zones, the partnership continues to go from strength to strength.

In 2020, QFZ and Google Cloud signed a strategic collaboration agreement to launch a new cloud region in Qatar's free zones, the first in the GCC and North Africa.
Google Cloud joining the free zones as a partner supported QFZ to accelerate developing our leading technology ecosystem and infrastructure. As we advanced our strategy to promote investment to the country, the Google Cloud region was a major and invaluable part of our expanding offering, serving a wide range of businesses both locally and internationally.
QFZ, the Ministry of Transport and Communications (MOTC) and Google Cloud announced the expansion of their partnership to include a new Center of Excellence training facility and new Google office in Qatar.
The Center of Excellence at Ras Bufontas Free Zone
Provides free, hands-on training in Google tools and technologies for individuals and businesses
Fosters innovation in the State of Qatar using the latest technologies and tools offered by Google
Serves as an incubator for high-potential startups and a hub for research to address digital transformation challenges
Learn more about the available trainings and workshops by visiting this link.
Building on a now two-year strong partnership, the supplementary agreement of 2022 supported the development of smart free zone operations using Google Cloud-based solutions and governed the opening of Google Cloud's Center of Excellence in QFZ.
By this point, the center which had virtually launched in June of 2021 had already trained more than 3,400 participants in cloud computing skills, serving as a catalyst to up-skill Qatar's digital workforce, and opening doors to those interested in becoming certified cloud digital leaders through trainings, workshops and programs.
"Qatar Free Zones Authority is a key enabler in enhancing Qatar's digital future. QFZ has been a critical partner for us from day one, as we strive to accelerate the adoption of cloud technologies in the country. Together, we are helping businesses in Qatar leverage the benefits of the cloud to create new opportunities and digitally transform." – Mr. Thomas Kurian, CEO of Google Cloud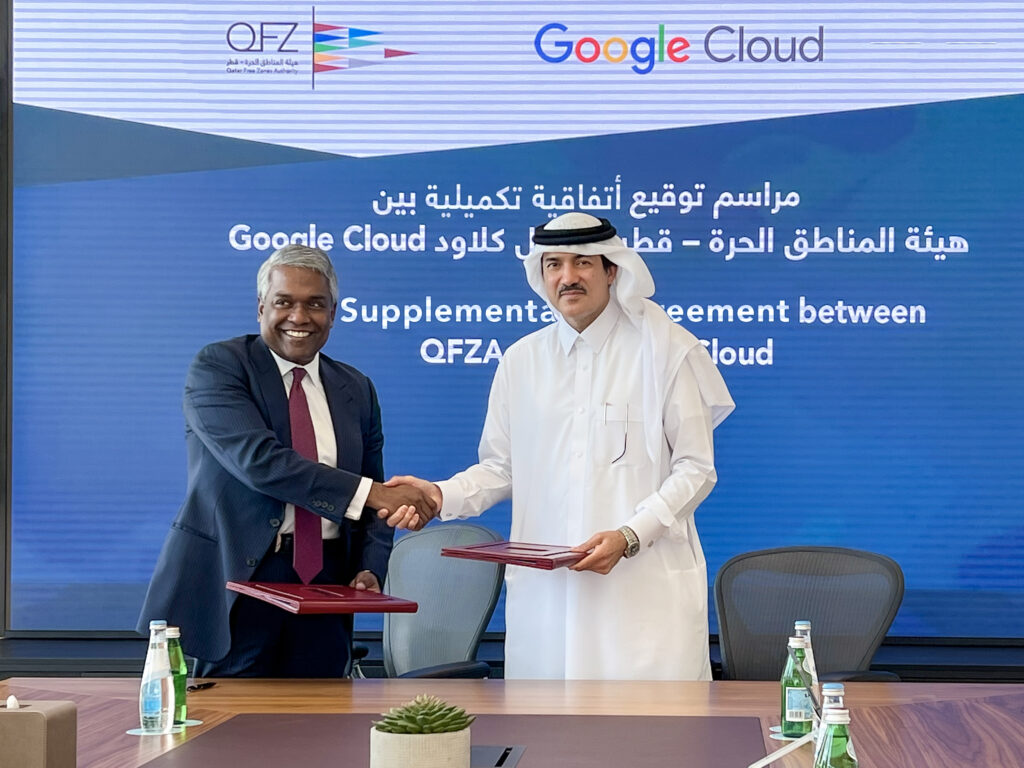 Building on the strategic collaboration agreement signed by QFZ with Google Cloud in 2020, MCIT and Google Cloud signed a framework agreement for cloud computing services that enables government entities to leverage Google Cloud's computing services and digital transformation solutions to enhance their business.