Qatar Free Zones Authority (QFZA) recently welcomed its first ship into Marsa, the Free Zones' dedicated port and marine services cluster within Umm Alhoul Free Zone. The Syncrolift launch at MARSA port took place on Wednesday, March 31, 2021, in a milestone event which was attended by H.E. Ahmad bin Mohammed Al Sayed, Minister of State and Chairman of QFZA, Mr. Fahad Rashid Al Kaabi, Chief Executive Officer of Manateq, Mr. Hamad Jar Allah Al Marri, Chief Projects Officer of the Ministry of Transport and Communications and senior leadership from the QFZA team.
A 64-meter ship, weighing more than 2000 tonnes, was the first to be lifted during the Syncrolift launch at MARSA port, which is designed to accommodate vessels up to 70 meters long and weighing 2,200 tonnes. An accompanying travel lift can accommodate vessels up to 30 meters in length and weighing up to 300 tonnes. The brand-new systems will support boat maintenance, inspections, and dry parking, adding to the wide range of infrastructural support available to companies in Marsa.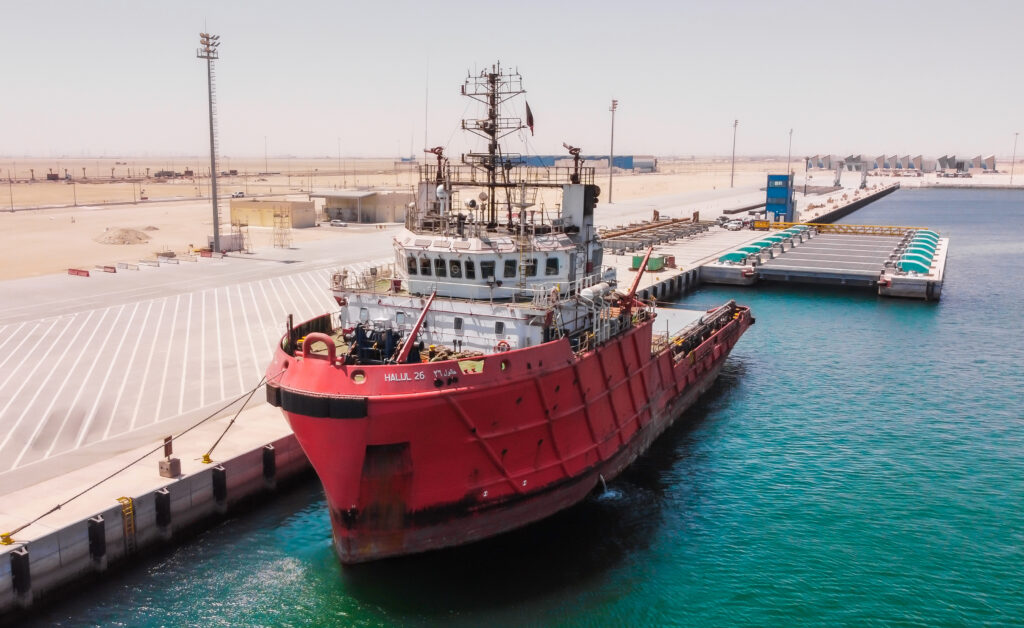 H.E. Ahmad Al-Sayed, Minister of State and Chairman of QFZA, said, "The successful testing of these new facilities is a great step forward for MARSA, which provides our investors with access to the world's largest greenfield port, as well as a wide range of world-class services and infrastructure. Many leading maritime organizations have already settled in the Free Zones, and I look forward to welcoming many more as we continue to develop our vibrant marine ecosystem."
MARSA has a 1.6 kilometer long, 500-meter wide draught and a total of 3.9KM kilometers of quay wall, as well as an industrial canal. It is a fully integrated marine ecosystem able to support a wide range of marine business including ship-building and repair, internal design and fit-out, boat brokerage and maritime research. Its wharfs are equipped to supply potable water and power to vessels, and the Syncrolift and travel lift systems join an existing slipway to provide three different types of lifting facilities. The port is additionally equipped with a self-propelled modular transporter (SPMT) to transfer ships between the Syncrolift and the dry park.
Read more about the MARSA marine cluster at Qatar Free Zones by visiting this link.